Doctors and Staff
Meet the experienced and friendly dentists and staff who make BenchMark Dental the leading provider of oral hygiene and personalized dental services in Riverton.
Dr. Brock Olson, D.M.D.
Dr. Brock Olson grew up in Burley, Idaho. He is one of six children. Growing up, he worked many jobs. He worked as a paperboy, in road construction, as a motorcycle mechanic, at a chicken processing plant, and as a farmhand. In high school he enjoyed playing football and the trumpet in the band. He decided he wanted to be a Dentist while he completed his undergaduate degree at Idaho State University. Dr. Olson graduated from Tufts University, School of Dental Medicine, in Boston, in 2011. He enjoys spending time with his family, hunting, fishing, tinkering with his 1974 Massey Ferguson 135 tractor, and dirt biking (he owns a YZ-450F). Along with general dentistry, he enjoys oral surgery and placing dental implants. He and his wife, Kristina, have lived in Riverton since 2011, and have 4 children.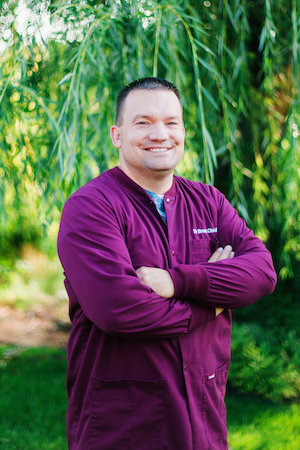 Dr. Spencer Smith, D.D.S.
Dr. Spencer Smith grew up in Sugar City, Idaho. He is the fourth of seven children. He enjoys a variety of activities, including, downhill and cross-country skiing, hiking, and riding ATV's. He also enjoys watching and playing sports. Outside of work, most of his time is spent with his family, church, and taking care of his yard. He decided to become a dentist after exploring a variety of medical fields. Dentistry caught his attention because he enjoys medicine, and enjoys working with his hands. Dr. Smith attended Dental School at the University of Iowa, in Iowa City. Dr. Smith enjoys general dentistry, orthodontics, and implant dentistry. Dr. Smith and his wife have five children. They have lived in Riverton since 2009.